Engineering
Applying Engineering Expertise to Bellows Design for the Most Optimum Product
DESIGN ENGINEERING: Software & Modeling
Our teams use KSM's Proprietary in-house design simulation software paired with simultaneous cross-analysis and leverage of industry-respected SolidEdge (Seimen's) program to craft and predict functionalities of the best bellows for your application.
The KSM Bellows Modeling Software
The KSM Bellows Engineering Program is a design tool produced from our accumulated technologies and experience. By utilizing this program, optimized designing is possible with minimal time. This optimization provides KSM the capability to produce bellows that achieve:
Highest Life
Lowest Cost
Compact Space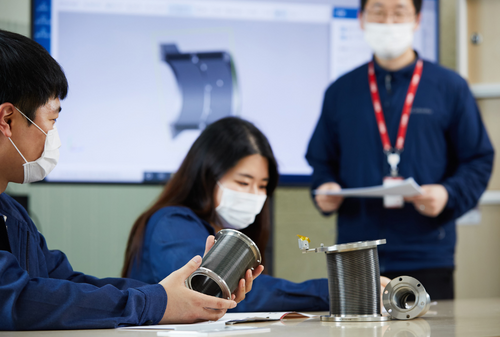 DESIGN ENGINEERING: Validation Procedure
More on the KSM R&D Test Facility - House specialty equipment that can test custom builds (movement and condition) simulating their in-process environments in order to validate Cycle Life for:
Special Stroke and Application
High-Temp Environments
Corrosive Environments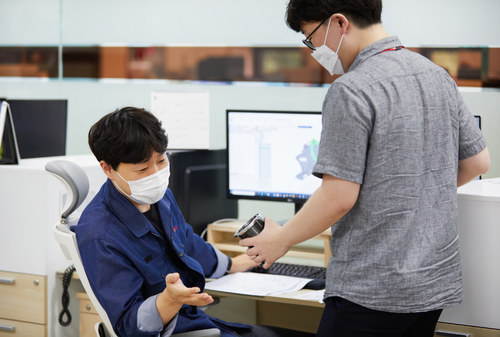 Finite Element Analysis
FEA (Finite Element Analysis) is a method that can predict device performance level in actual operating conditions and reflect this into the design. The FEA model can illustrate the predicted stresses on the bellows with a visual representation in 3D or animation.
By using FEA tool, KSM is able to use the predicted data on lifespan, spring constant, and other characteristics to optimize the bellows design.
Lifespan of bellows is acquired by fatigue analysis and fatigue strength calculated from applying stress-lifespan (S-N) graph derived from FEA analysis. By using fatigue analysis we can not only predict the lifespan of bellows, we can also acquire critical points and safety-ratio required for specific products which can lead to more stable and robust design.
From this analysis the proper bellows diaphragm geometry is derived. It is this geometry that is the basis for the bellows diaphragm form tooling and weld fixtures that are used to manufacture the bellows.
ENGINEERING expertise woven into our FULL-PROCESS:
KSM Realizes Engineering goes much deeper than surface level.. It's about integrated process and procedure and understanding critical differentiators, like strict cleanliness.
Especially challenged in the face of ramp-up KSM recognizes the importance of risk-mitigation wherever necessary.
NEED MORE? Learn about the World's LARGEST CYCLE-TESTING FACILITY For Welded Metal Bellows.