Vacuum Research & Development
Custom Welded Bellows for R&D Labs, Universities, Vacuum Chamber Equipment Manufacturers and more...
The Vacuum Equipment / R&D Laboratory marketplace includes: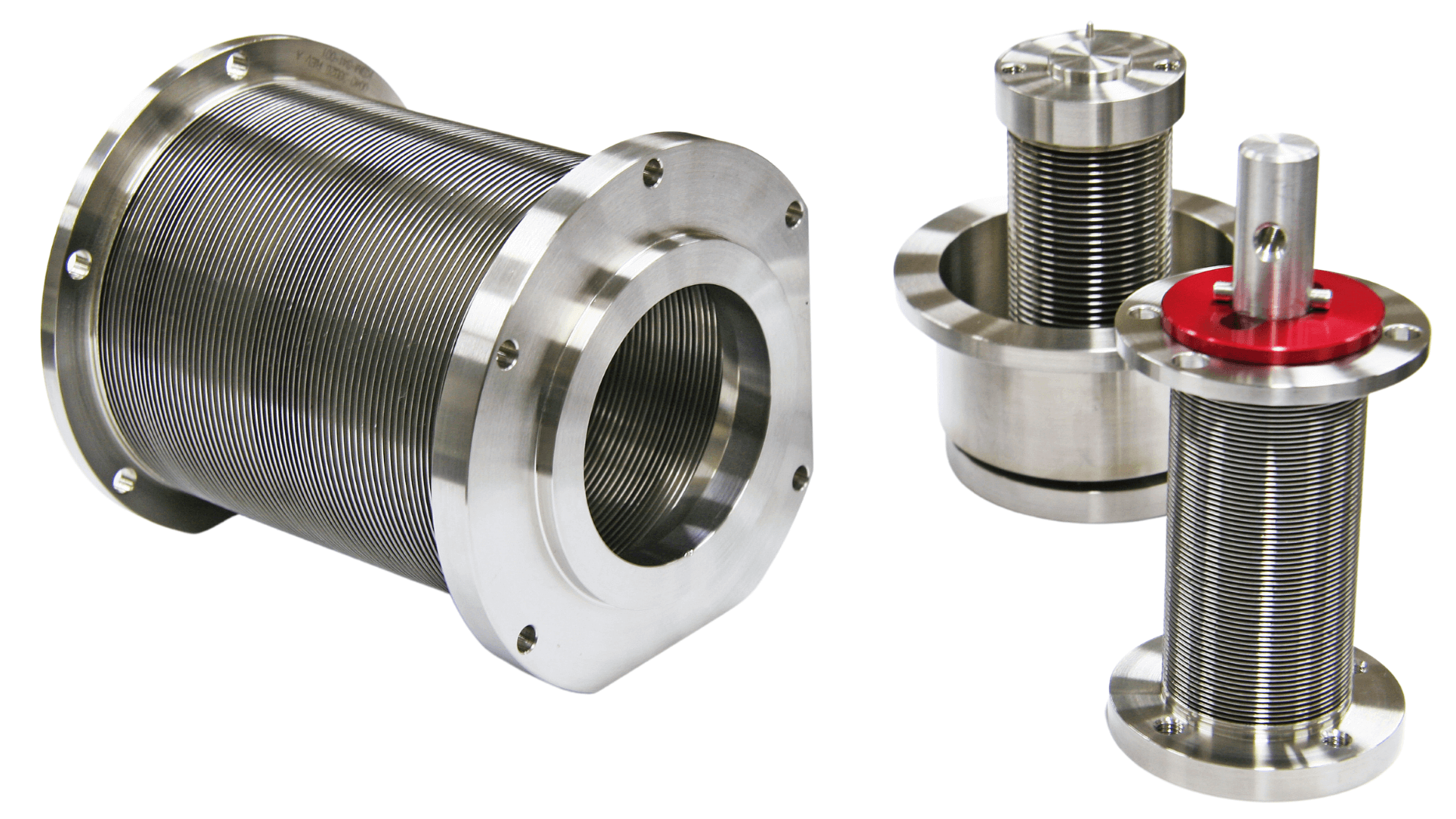 Both public and private; primarily composed of Physics, Biotech, Pharma, and Med-tech sectors. Those processes requiring vacuum, cryogenic hermetic separation of environments are key areas where KSM products are used.   
Those that supply the valves, pumps, and associated hardware for this market and other industries.
Analytical Equipment OEMs
Those who supply the measurement and related instrumentation for UHV applications.
Due to ramp-up in Semiconductor Manufacturing, Vacuum Valves used on these tools have seen a dramatic rise in volume.
WHERE ARE KSM Edge Welded Metal Bellows USED?
Edge Welded Metal Bellows for Vacuum / R&D Market equipment are historically some of the most fundamental and original applications.
Although many applications have been around for a long time, requirements have evolved to demand better reliability, higher cycle lifetimes, and far cleaner assemblies.
Depending on magnetic permeability requirements, most bellows are 316L SST, 347 SST, or AM350® SST. 316L SST and 347 SST work better in low cryogenic applications; but AM-350® SST, although slightly magnetic, is preferred for its higher strength, where cycle life is critical. Now, many of the Vacuum Valve OEMs specify Inconel® 625 or other more corrosion-resistant alloys for Semiconductor tools environments.
APPLICATIONS INCLUDE: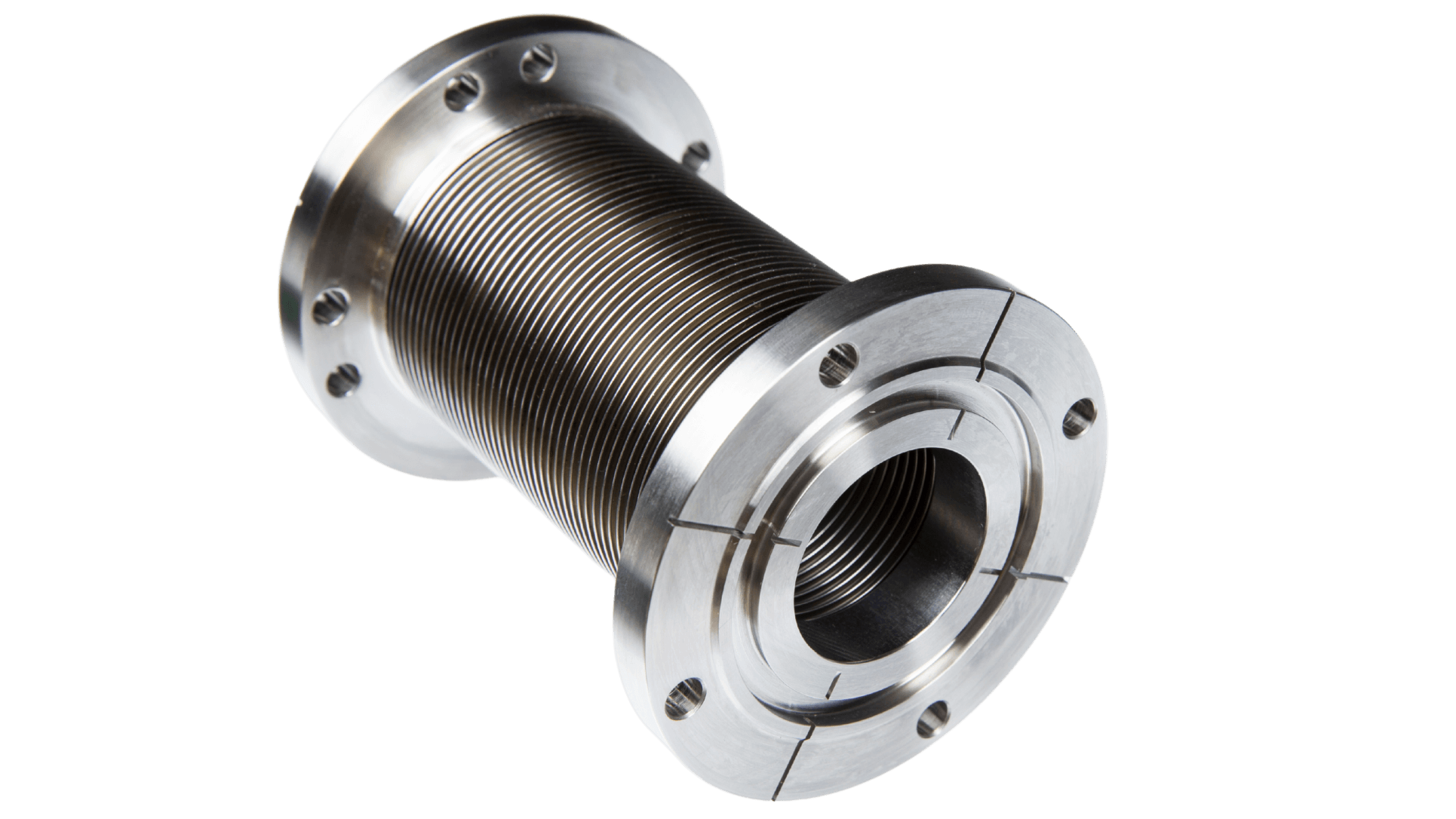 Beamline Bellows
Gimbal Load Locks
Rotary Feedthroughs
Cryostat Bellows
Linear Feedthroughs
Valve Seals, Linear
Expansion Joints
Manipulator, X-Y-Z
Vibration Damper
Foreline Connector
Port Aligners
Wobble Sticks
Quartz Crystal
WHAT ARE THE KSM ADVANTAGES? 
CLEANLINESS: KSM offers the highest levels of product cleanliness and purity; starting with our Automated Component Parts Cleaning Lines to our Class 6 [1000] Clean Room for Welding & Assembly and Class 5 [100] Final Inspection and Packaging area.
BELLOWS SIZES: KSM has an extensive list of existing tooling [Bellows Dies] from 9.5 (0.375") to 950 mm (37.5") OD. KSM offers bellows that are compatible with all the standard industry CF, KF & ISO Flanges.
MATERIALS

: Most R&D Beamlines require the use of magnetic permeability materials with 304L, 316L & 347 SST the most popular. KSM maintains large inventories of these alloys for bellows and machined parts, with fully traceable certifications. 
END FLANGE SPECIAL PROCESSING

: To improve cleanliness and surface finish on machined surfaces; KSM maintains an Electro-polishing line for hardware/machined components when desired by customers.
CAPACITY: Production Capacity from the world's largest edge welded fabrication site and Clean Room can meet your needs from prototypes to high volume production.
LOGISTICS: KSM regularly ships to over 50 countries around the world and maintains a large climate-controlled warehouse for all raw materials – with full component traceability
SUPPORT: KSM maintains a fully equipped Metrology Lab for component evaluation and cleanliness verification. On top of housing their own separate R&D Testing Lab on campus.
 Need a DRAWING review? CONTACT US - UHV is what we do!